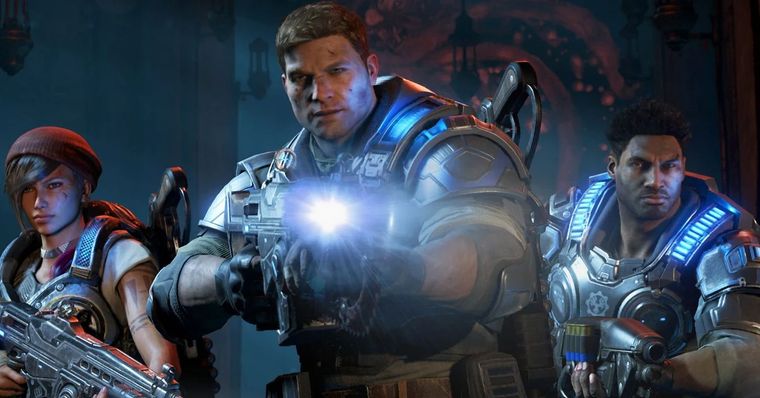 Xbox Series X: Mais de 70 jogos são otimizados gratuitamente para o console
Novas atualizações podem surgir a qualquer momento.
A nova geração de consoles chegou em um momento complicado em que muitos jogos inéditos foram adiados devido à pandemia. Entretanto, o Xbox Series X conseguiu contornar esse problema com uma solução inteligente: otimizações gratuitas para o console.
Jogos Aprimorados
Nesta semana, mais de 74 jogos, originalmente lançados para o Xbox One, receberam uma atualização que melhora sua performance para aproveitar nativamente o poder extra do Xbox Series X, o que vem sendo chamado de FPS Boost. Confira a lista:
Alien Isolation
Anthem
Assassin's Creed III Remastered
Assassin's Creed Rogue Remastered
Assassin's Creed The Ezio Collection
Assassin's Creed Unity
Battle Chasers: Nightwar
Battlefield 1
Battlefield 4
Battlefield Hardline
Battlefield V
Beholder Complete Edition
Dead Island Definitive Edition
Dead Island: Riptide Definitive Edition
Deus Ex Mankind Divided
DiRT 4
Dishonored – Definitive Edition
Dishonored: Death of the Outsider
Don't Starve: Giant Edition
Dragon Age: Inquisition
Dungeon Defenders II
Dying Light
Fallout 4
Fallout 76
Far Cry 4
Far Cry 5
Far Cry New Dawn
Far Cry Primal
Gears of War 4
Golf with your Friends
Halo Wars 2
Halo: Spartan Assault
Hollow Knight: Voidheart Edition
Homefront: The Revolution
Hyperscape
Island Saver
LEGO Batman 3: Beyond Gotham
LEGO Jurassic World
LEGO Marvel Super Heroes 2
LEGO Marvel Superheroes
LEGO Marvel's Avengers
LEGO STAR WARS: The Force Awakens
LEGO The Hobbit
LEGO The Incredibles
LEGO Worlds
Life is Strange
Life is Strange 2
Lords of the Fallen
Mad Max
Metro 2033 Redux
Metro: Last Light Redux
Mirror's Edge Catalyst
Monster Energy Supercross 3
MotoGP 20
Moving Out
My Friend Pedro
My Time at Portia
New Super Lucky's Tale
Overcooked! 2
Paladins
Plants vs. Zombies Garden Warfare
Plants vs. Zombies Garden Warfare 2
Plants vs. Zombies: Battle for Neighborville
Power Rangers: Battle for the Grid
Prey
Realm Royale
ReCore
Sea of Solitude
Shadow of the Tomb Raider Definitive Edition
Shadow Warrior 2
Sleeping Dogs Definitive Edition
SMITE
Sniper Elite 4
STAR WARS Battlefront
STAR WARS Battlefront II
Steep
Super Lucky's Tale
SUPERHOT
The Elder Scrolls V: Skyrim Special Edition
The Evil Within 2 (PsychoBreak 2 in Japan)
The Gardens Between
The LEGO Movie 2 Videogame
The LEGO Movie Videogame
Titanfall
Titanfall 2
Tom Clancy's The Division
Tomb Raider: Definitive Edition
Totally Reliable Delivery Service
Two Point Hospital
UFC 4
Unravel 2
Unruly Heroes
Untitled Goose Game
Wasteland 3
Watch Dogs 2
Watch_Dogs
Yakuza 6: The Song of Life
Entre os títulos, temos grandes nomes de empresas renomadas, como a Ubisoft, EA Games e a Bethesda, recentemente adquirida pela Microsoft. Com isso, os jogadores poderão perceber um aumento significativo na taxa de quadros dos jogos que pode chegar a até 120FPS no Xbox Series X.
É importante lembrar que parte desses jogos também foi aperfeiçoado para o Xbox Series S, mas, devido às limitações do console, muitos títulos ficaram de fora.
Nova geração de serviços
Nesses quase seis meses que se passaram desde o lançamento do console, um total de 94 jogos receberam uma atualização gratuita de desempenho. A Microsoft parece estar dando prioridade para jogos que estejam também disponível no seu serviço de assinatura, o Xbox Game Pass, que também inclui o EA Play na sua versão mais robusta.
Em quesito de serviços, a família Xbox vem se tornando cada vez mais interessante, especialmente para o público casual. Com a chegada da E3 em junho, maior evento de anúncio de jogos, espera-se que o catálogo de títulos exclusivos do Xbox Series X seja enfim anunciado.
O que você espera do Xbox Series X? Gostou da lista de atualizações? Não deixe de comentar!
Conheça os melhores jogos de Xbox One para jogar no seu Xbox Series X: